Representation:
Donald Maass
Donald Maass Literary Agency
1000 Dean Street, Suite 252
Brooklyn, NY 11238, USA
212.727.8383
dmass@maassagency.com
-o0o-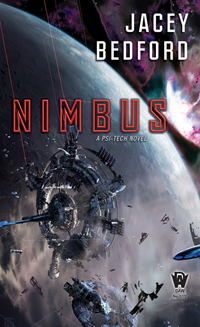 "Silverwolf is an easy and quick read but contains a very active plot. I really enjoyed the storytelling" - Barnes and Noble
-o0o-
"Bedford adeptly weaves together romance, action, and fantastical elements, all set against a richly realized series of far-flung locations. Conflict both nautical and emotional keeps things exciting." Publishers Weekly (Winterwood)
-o0o-
"Bedford builds a taut story around the dangers of a new world.... Readers who crave high adventure and tense plots will enjoy this voyage into the future." - Publishers Weekly ( Empire of Dust)
-o0o-
Who doesn't love a far-future novel of evil megacorps and their telepathic agents? Nobody, that's who. In this one, there's a fun twist: the "Psi-Tech" implants drive you insane unless you stay connected to the company that put them in you. Until one agent, Cara Carlinni, figures out how to go rogue without losing her mind." -io9
-o0o-
"WINTERWOOD, the first book in Jacey Bedford's new series Rowankind, combines all sorts of delicious elements into a delectable whole. Urban fantasy, historical fiction, magic, shapeshifters, a strong female lead and top it all off with pirates. I certainly couldn't resist the temptation, and the result was thoroughly satisfying." - Fresh Fiction
-o0o-
"Bedford's punchy, readable style propels the reader easily through the complexities of the well-paced plot, and her world-building, whilst utilising some tropes, also displays interesting and original touches which bode well for future novels." - Jaine Fenn (Tales from the Garrett)
-o0o-
"The skill of this book lies in Bedford's ability to seamlessly combine intrigue-heavy, multi-viewpoint plotting with human stories featuring characters you care about – a rare feat in this genre." - Jaine Fenn (Tales from the Garrett)
xx
Welcome
Jacey Bedford writes fantasy and science fiction, she's been published on both sides of the Atlantic. Her first five books are published by DAW: Empire of Dust, Crossways, and Nimbus, Psi-Tech novels. They are science fiction/space opera. Plus Winterwood and Silverwolf the first two Rowankind Books - historical fantasy set in 1800 with a cross-dressing female privateer captain, a jealous ghost and a wolf shapechanger. Jacey's under contract for Rowankind, the third in the Rowankind trilogy, due in December 2018
Her writing blog, Tales from the Typeface is on Wordpress. You can follow her writing history from the offer of her debut three book deal with DAW as it happens, plus pick up writing advice and the writing-relevant minutiae of a writer's life.
Her personal; blog is on Dreamwidth. What does she blog about? Writing, books, movies, local history, family history, reminiscences, music, things that interest her on a local or global scale. What doesn't she blog about? She doesn't use her blog as therapy.
She's on Twitter @jaceybedford also has a Facebook presence and she blogs what she reads on Goodreads (see panel below).
Jacey is co-organiser of the Milford SF Writers' Conference, an annual workshopping week for published SF writers and she's also the coordinator for the Northwrite SF writers' group. She maintains the Milford blog at milfordsfwriters.wordpress.com
A firm advocate of critique groups Jacey was a member of the (now defunct) Recog email crit group for eight years and thanks all her co-critiquers for their excellent input. Now, in addition to attending Milford annually, she takes part in Northwrite SF, a quarterly face-to-face critique group for speculative fiction writers within striking distance of the north of England. Jacey maintains the Northwrite website and you'll find her links for writers there.
Chesk out Milford here: www.milfordSf.co.uk
Advice for writers.
Apply the seat of your pants to a chair, your fingers to the keyboard and write. When you've finished, polish it. When it's as good as you can possibly make it, format it correctly and submit it. Then apply the seat of your pants to your chair again... etc. Rinse and repeat. There is no other way. If you don't write it and send it out, you'll never get published.
xx
News: 2018
10th December
Excellent Publisher's Weekly review of Rowankind.
"Gripping final Rowankind installment... a strong and satisfying wrap-up of the series"
5th December
There's a good review of Rowankind at Arched Doorway.
30th November
I've done an interview for Civilian Reader.
29th November.
Here's my blog post on Sharon Stogner's I Smell Sheep blog.
27th November
BOOK DAY! ROWANKIND is published today. Yay!
26th November
I have an interview up on the Jean Book Nerd blog.
21st November
New blog post up at Skiffy and Fanty. Thank you Paul Weimer
19th November
The second part of my interview is now up at The Scribe. Thanks to Mark Iles
17th November
An interview with me re Rowankind is now up at File 770. Thanks to Mike Glyer for hosting and to Carl Slaughter for the interview itself. Good questions, Carl.
17th November.
A complete rundown of the Rowankind trilogy ia now up at Fille 770.
11th November
First of a 2-part guest blog post on The Scribe
This one is about Rowankind. The next will be about writing in general.
9th November
My author copies of Rowankind arrived today! Whoo-hoo! Publication date is now 27th November 2018.
3rd November
New Blog Post: First chapter of Winterwood. Read it here.
3rd November
Rowankind publication date has been brought forward to 27th November. You can pre-order your copy now. (Please!)
ROWANKIND
The third book of the swashbuckling Rowankind trilogy follows privateer and witch Ross Tremayne as she navigates the magical world of alternate 19th-century Britain.

What do you do with a feral wolf shapechanger who won't face up to his responsibilities? How do you contain magical creatures accidentally loosed into Britain's countryside? How do you convince a crew of barely-reformed pirates to go straight when there's smuggling to be done? How do you find a lost notebook full of deadly spells while keeping out of the clutches of its former owner? How do you mediate between a mad king and the seven lords of the Fae?

Ross and Corwen, she a witch and he a shapechanger, have several problems to solve but they all add up to the same thing. How do you make Britain safe for magic users?
22nd October
New blog post: SF Conventions and How to Survive Them
8th October:
New Blog post: Gentleman Jim Speaks Out - the Rowankind books from the piratical perspective
28th September
New blog post: My Week at Milford.
11th September:
New blog post: Finish What You Start - or Don't
24th August
I love it when people send me 'shelfies' if they see copies of my books in the wild. My daughter & family are on holiday in the Pacific North West and sent me this from Powells World of Books in Portland OR.
Send me yours!
22nd August
Whoo-hoo! I'm one of the core authors in Zombies Need Brains new kickstarter anthology 'Portals.' Here's a link to the kickstarter for this and two more anthos. It goes live today.
14th August
New blog post on book covers
31st July
New blog post on Dropping a Pebble Into the Pond
17th July
New blog post on Character self-determination.
2nd July
My blog post on the Milford blog about Northwrite SF Writers Group
13th June
New blog post on my story 'Make Me Immortal With a Kiss' in Second Round, A return to the Ur-Bar
23rd May
My blog post on 'What Times We've Lived Through' is up now
17th May
Nice review of Silverwolf in The Nameless Zine.
14th May
Jacey's piece on the Milford Blog: The Parallels between Singing and Writing
8th May
Jacey's Blog 'Rowankind Delivered'
25th April
Jacey's blog: The Reading Conundrum.
17th April
Cover reveal of my upcoming book, Rowankind, last in the Rowankind trilogy. Due from DAW in November 2018
5th April
Here's my blog post at Authors Electric on The Geography of Words.
4th April
Comedy panel at Eastercon with me, Jaine Fenn and Juliet McKenna discussing 'Men in Science Fiction and Fantasy' with the delightful Adrian Tchaikovsky as our token male.
18th March
New blog post: My Eastercon Schedule
27th February
New Blog Post: Pleasantly Pleasing Progress
15th February
New Blog Post: How to get a Literary Agent
30th January
New blog post: Beginning at the Beginning
16th January
New blog post: Discovering what I didn't know I didn't know
3rd January
New blog post: What's the Psi-Tech Trilogy about
News: 2017
20th December
New blog post: Looking forward and Looking back - ten years of Blogging
6th December
My story 'The Stolen Shoes' will be in Enchanted Conversations - a Fairy Tale Magazine on 8th December. It's the Elves and the Shoemaker edition so no prizes for guessing what the story's about, but it's a complete switch-around.
28th November
My story, The Horse Head Violin, is in the anthology: Children of a different Sky, edited by Alma Alexander. Buy in the USA. Or buy in the UK Proceeds to help refugees
28th November
New post on my blog: My Top Ten Children's Books – a Personal List
14th November
New post on my blog: NaNoWriMo – almost the halfway point
30th October
My blog post has news of my new book contract for Rowankind.
26th October
My blog post about committing trilogy is up at Skiffy and Fanty:
20th October
An interview by Carl Slaughter for File 770
18th October
My guest blog post is up at The Qwillery.
17th October
There's a really thoughtful review of Empire of Dust here.
16th October
My new blog post about The Writer's Pen is up now.

6th October
Dag Rambraut has interviewed me for SFFworld.com. Read it here.
3rd October

BOOK DAY.
My 5th novel NIMBUS is published today.
3rd October
My blog post 'They Came in Their Thousands,' about my Belgian refugee/World War One story is up on Alma Alexander's website. I have a story called The Horse Head Violin in her anthology 'Children of a Different Sky.'
3rd October
My blog post is up on the Milford blog: 'Things I didn't Know When I started to Write a Trilogy'
3rd October
My blog post 'Happy Book Day To Me' is up on my own blog.
26th September
Looking forward to Fantasycon at The Bull Hotel and Conference Centre, Westgate, Peterborough, PE1 1RB, this coming weekend. (28th Sept to 1st Oct) I'll be doing three panels.
Playing with the Real - Saturday 1.30pm (Panel Room 3)
Writing Mentors & Writing Groups - Sunday 11.00am (Panel Room 1)
Writing Research - Sunday 1pm (Panel Room 1)
21st September
New blog post I Am/Am Not a Word Machine
9th - 16th September Live Blogging from the Milford SF Writers' Conference
3rd September
All about the Zombies Need Brains kickstarter for the anthology I'm in: 'Second Round'
21st August
Blogpost: What I learned about Tallinn that I couldn't have found in a Guidebook.
9th - 13th August
Worldcon in Helsinki
I have one panel on Sunday afternoon 13th August: 15:00 - 16:00, 216 (Messukeskus) History as World Building. Using knowledge and research of real-life history as world-building fantasy and science fiction. Thomas Årnfelt, Jacey Bedford, Heather Rose Jones (M), Jo Walton, Angus Watson
4st August
Blog Archive links
27th July
New blog post:
Bladdered or Shitfaced? The gentle art of word choice and the bogglement of page-proofing.
11th July
New blog post Corwen Silverwolf Speaks
News: 2014, 2015, 2016 & 2017
Earlier news archive is here...